"Five gospels record the life of Jesus.
Four you will find in the books, and one you will find in the land they call holy. Read the fifth gospel and the world of the four will open to you!"
Bargil Pixner, With Jesus through the Galilee
Faith-based travel provides congregations and ministries with opportunities to incorporate travel into their community-building initiatives, while helping them achieve ministry objectives.
Community Building
As your members go through this life changing trip, they are creating bonds with you and the other members in the group that will not be broken when you return home; they will have a profound and long-lasting effect on your community.
Fundraising Opportunities
Ministries need funding for the many social projects they carry out in their communities. Your trip is a great way to raise funds for these services, by adding a small premium to the per person price of the trip. Also, the larger the trip, the more you will be able to raise. Please ask your Faith & Heritage Tours representative for more information.
Special Offer for Group Leaders!
We realize that leading a community trip is hard work, and definitely not a vacation for the spiritual leader! Therefore, a tour leader who brings at least 15 full paying participants will travel free; additional free passengers are negotiable. Your Faith & Heritage Tours representative will be glad to discuss your congregation or ministries specific needs.
Blessing Israel & The World
Faith & Heritage Tours has partnered with various charitable organizations in Israel, Jordan and the Palestinian Territories and has negotiated special lodging rates for groups wishing to volunteer and serve in those locations. Such trips are traditionally very affordable and are a great opportunity to make a lasting impact on your members and the people they are serving. VolunTour modules can also be built into any of our group or private car tours as well. Please contact us for further details.
We assist you with the planning of your trip from beginning to end.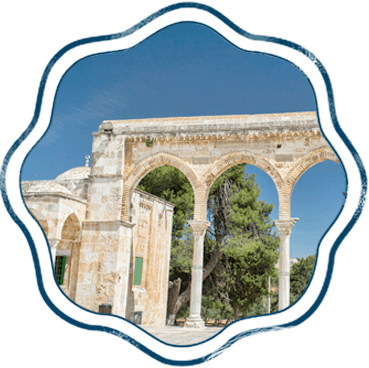 Let Faith & Heritage Tours take you to a variety of destinations around the world. See the highlights of Europe in places like France, Italy and Spain while exploring your faith further and delving into the rich religious history. Visit Israel to walk in the footsteps of Jesus – a once in a lifetime opportunity you'll surely never forget. Whether you're traveling with a small group, your congregation or community, or your choir – we have a trip for everyone!
Read what people
have discovered.